November 2020
Facebook integration: Messages sent by your page via Facebook Messenger directly will now still appear in SwiftDesk so you can see the full conversation and carry it on there any time.
API: We've expanded our API to cover customer creation, allowing you to create customers in SwiftDesk even if you are not in a conversation with them right now. We're also working on separate documentation specifically for our API.
Reply To Support: SwiftDesk now looks for a Reply To address in received emails to identify the customer, and direct your replies.
Reply Templates: Reply templates can now be embedded in each other using shortcodes. With this you can create templates partials, such as signatures or specific paragraphs, and then assemble them into different combined templates. With this approach, you'll only have one template to edit if you need to change a partial (for example, your signature block) no matter how many templates it is used in.
Adding Customers: You can create new customers when creating a new outbound conversations, so you can start a new email or SMS conversation to a new customer.
HTML Emails: Links in HTML emails now always open in a new tab. You can also now switch between the HTML and text version of a customer email (where available) by clicking the dropdown menu next to the message.
New Rule Actions: Force HTML can be used to make an email that matches the conditions appear in HTML mode by default (where available) instead of text mode. Assign user can be used to automatically assign a new conversation to a user based on the conditions.
Drop and Paste Image Support: You can now drop or paste images directly into the composer when creating a reply, template or article and your image will appear inline in that position.
October 2020
Start new conversations from SwiftDesk: We've added the option to start new email or SMS conversations with customers. Use this feature to get in touch with a customer without having to reply to one of their earlier messages. A new conversation will be created in SwiftDesk, so your whole team is kept in the loop. If the customer replies, their message will be added to the conversation for perfect continuity.
Unassigned Filter: You can now easily see just the conversations which have not been assigned to anyone by clicking on the 'unassigned' filter in the conversations view.
September 2020
Tag Filter: You can now focus on conversations with a particular tag by adding a tag filter. Simply check the box next to the tags you want to see in the inbox view, and you'll only see conversations with those tags.
August 2020
Scorecards & Performance Reporting: SwiftDesk now captures conversations received and completed metrics, which can be explored through scorecards and graphs across all your brands.
Blocked Senders: Block senders with a single click, and SwiftDesk will automatically remove any conversations they've started, and you'll never hear from them again. Easy.
Key Bindings: We've added key bindings to the conversations view so you process your inbound messages and get back to customers even faster. Assign, add tags, block spam, delete, open/close, and move to your previous and next message without touching your mouse!
Tags: Create colored tags/labels to add to conversations to help organize your customer conversations.
Rules: Setup rules to automatically apply actions to new conversations when they are created. For example, you can add a tag or mark a conversation as completed automatically based on the sender, subject line or content.
Assign multiple users: You can now assign more than one user to the same conversation, giving more options to suit your workflow.
Conversation forwarding: Need help from another department to answer a customer? You can now forward conversations directly to an external email address. SwiftDesk will compile the conversation down to a nicely formatted HTML email so your recipient can see the full history. A new conversation will be created for the forwarded out email - but it will immediately receive a closed state so it stays out of your inbox. If your recipient replies, it will be attached to the new conversation. Both the original conversation and forwarded one will be associated, making it easy to jump from one to the other via links in the sidebar.
HTML email preference: You can now choose to display the HTML version of inbound customer emails on a customer by customer basis. By default, SwiftDesk shows the text version where possible, so you are presented with consistently formatted messages across customers. However, for some email sources, particularly notification and newsletter emails, we recognize there are times where the HTML version works better.
Chat Transcripts: Summaries of chat conversations are now automatically emailed to the customer after a chat is ended, provided that the chat was linked to a customer with an email address. These great looking HTML emails include profile pictures, timestamps, inline images and attachment support, to provide your customers with a great permanent reference of your chat conversation.
Image paste/drop to upload: If you have an image on your clipboard (such as a screenshot), you can now paste it directly in to the message composer and your image will be uploaded as an attachment to your next message. You can also now just drag images directly into the composer to upload them, making even faster to compose your replies and share information with your customers.
Inline images: Images are now shown inline in chat conversations instead of being presented as attachments. This allows the image to be seen in a large preview, making it faster and easier to exchange information with your customer. Images can still be clicked to open the full version image.


July 2020
Facebook Integration: SwiftDesk now integrates with Facebook. With this integration, you can manage your Messenger conversations for your pages directly in SwiftDesk. Through Facebook Messenger you can provide your customers another channel to reach you, while still managing your replies seamlessly from SwiftDesk across all your channels. Read more about the SwiftDesk Facebook integration.
Support customers over SMS: You can now support customers over SMS. SMS conversations appear just like any other, giving you all the SwiftDesk tools to manage your replies, while engaging with your customer over their preferred channel. We've partnered with Twilio, market leaders in online integration with local voice and SMS services for this feature. Read more about the SwiftDesk Twilio integration for SMS support.
Improved Notifications: We've overhauled our notifications system for a more consistent experience and more helpful notifications when new conversations start, or chat messages arrive. If enabled in your preferences, audio notifications now trigger with each new message (unless you are already looking at the conversation or chat); desktop notifications can now be disabled at an application level, in case you want to turn them off without going in to your browser settings; notifications will no longer appear for chats or conversations that are assigned to someone else; and new in-app notifications show a preview of the new message and can be clicked to take you straight to the conversation or chat.
Smarter customer hints: Our hints system is now smarter at detecting customer names and email in chat messages, allowing you to create and update customer records with a single click.
Knowledge base articles for chats: The knowledge base article insertion tool from conversations is now available in chat. Quickly search all the articles on knowledge bases for the brand you are supporting and drop a link to helpful articles directly in to your reply.
Chat message attachments: You can now send files to your customers via chat.
New message composers: We've overhauled the chat and conversations message composers, for a streamlined look, and consistent appearance.
New template picker: The template picker now launches in a larger view where you can search and view the contents of your reply templates before making a selection. Get back to your customers quickly, and consistently with pre-built template replies.
Internal notes improvements: Internal notes added to conversations now support attachments.
New default profile pictures: We've added more colors and bolder initials to the default profile pictures for customers and users - making them more distinct and much easier to identify.
June 2020
Enhanced search logic: We've enhanced the logic for article searches both on the knowledge base side, and in the admin interface. Searches are now much smarter and can help you and your customers find the information you need in less time.
Knowledge Base Article Reply Helper: Insert a link to a knowledge base article directly into your reply in seconds. The new helper allows you search all knowledge bases for a brand, find articles that will help your customer and expand on your reply, and insert a link to them with a single click.
Attachments: You can now include attachments when replying to customers over both the email and Facebook Messenger channels.
Knowledge Base Design: We've updated the knowledge base design (article and category pages) to allow for easier navigation and to better cater for the content we've seen created. The new design makes use of the full page width, with the knowledge base navigation and article navigation sidebars now both remaining visible as you scroll through the body of an article. We've also added smooth scroll for a smooth animated scroll when selecting one of the H2 headings from the article navigation. This new update feels really nice to use, and makes it much easier to see where you are and to navigate to the next article.
Hide author on KB articles: We recognize that it is not always relevant to show who created or last edited a knowledge base article - so the author can now be hidden. The new hide authors setting exists in the knowledge base configuration, and applies to all articles.
SwiftDesk API: We have created an API for creating conversations in SwiftDesk programmatically from your own website or web application. This is ideal when you still want to host your own contact form on your website, but create SwiftDesk conversations when it is submitted. We plan to expand the API over time, but we've started with this single, high-demand endpoint. Read more about the SwiftDesk API.
April 2020
Updated navigation: We have updated the primary navigation sidebar to be bigger and include the full module names, so it is much faster and easier to find what you are looking for.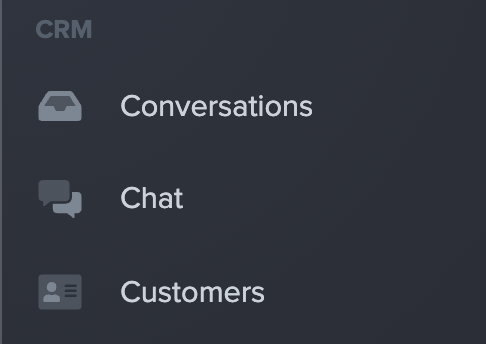 March 2020
Assign to any user: It is now possible to assign conversations to any user with access to the brand - not just yourself. This feature is perfect for managers or supervisors that want to assign conversations to their team.
Improved HTML email support: We've improved our support for inbound html emails from customers to support a wider range or formats and edge cases. We continue to extract the plain text version of the email as a first preference when it is available, so you can get straight to the customer's inquiry without their formatting.
February 2020
Automated certificates for custom domains: We've completely automated the generation of SSL certificates from Let'sEncrypt for knowledge bases using custom domains. There's no more need to reach out to our support team to install your certificate manually. Just create the CNAME record in your DNS settings and enter a custom domain in your knowledge base configuration in SwiftDesk. That's it! Our automated process will take it from there - including renewing your certificate before it expires. We'll start serving your knowledge base securely from your custom domain as soon as your certificate is generated.
Improved Conversation View: Our new design makes much better use of space, makes the toolbar more consistent and prominent, and introduces new navigation buttons to quickly move to the previous and next conversations in the current folder.
Improved Inbox: We've enhanced the inbox view so that all views can now be filtered by brand - making it easy to work with open, assigned or closed conversations on a specific brand or combination of brands.
Reply templates: Get back to customers faster, and with consistent information using reply templates. From the simplest greeting to more complex responses, you can now create prepared replies in advance ready for when you need them.
Shopify integration: Keep your customer information and recent orders synced automatically with SwiftDesk, so you'll have all the information you need at your fingertips when providing support.
Slack integration: Be informed of new customer emails or replies directly in a Slack channel. Now you SwiftDesk can let you know in Slack when something needs your attention, even if you are not logged in.
Popular articles: Knowledge base home pages now include popular articles in the sidebar so it is easy for your customers to find the information people are looking for for most commonly.
New home view: We've added a new home view to the application to summarize all your chat and conversation activity across brands.
Accelerated loading: Data now updates much faster when you are making changes to resources like knowledge bases, conversations and articles. This gives the UI a much snappier feel so you can stay productive.
January 2020
Live chat: You can now offer a live chat option to your customers! Activated inside an SwiftDesk Portal, live chat gives customers on your website the option to chat with you in real-time.
Knowledge base links: You can now add links to the menu on knowledge base sites. Create links back to your main site, an application login page, social pages, or any other place you might want your customers to link out to while explore your knowledge base.
Simplified sign-up: We've simplified the sign-up process for new users that want to try SwiftDesk.
December 2019
Knowledge base search in widgets: You can now make your knowledge bases searchable directly through a widget. Give customers the option to find the answer they need instantly without leaving your website.
Embeddable widgets: Widgets are small windows that you can embed in your website to enable your customers to search your knowledge base, start a live chat conversation with you, or leave you a message.
Audio and desktop notifications: We've added optional audio and desktop notifications for when you new email or live chat conversations are started. Even if SwiftDesk is running in the background, you'll be alerted when something new needs your attention.
User tours: New users now receive the option to launch a tour of the application to get familiar with the options and layout.
November 2019
User assignment: Users can now be assigned to conversations, with real-time updates pushed out to all users - keeping everyone on the same page about who is helping a customer.
Also viewing: Other users viewing the same conversation are now shown to all users, making it easier to avoid duplication in replies.
Multiple brands: We've added support for multiple (and unlimited) brands within SwiftDesk. Knowledge bases, and email conversations are now connected to a brand. Access to each brand can be controlled at a user level, so user's will only be able to access the brands they are supporting.
Email conversations: SwiftDesk as expanded to broader customer service software and now supports inbound email management. Productivity and team collaboration tools help you to manage email conversations with customers across multiple email brands, either using your own email address, or a custom branded email address at swiftdesk.io.
October 2019
Internal knowledge bases: Optionally restrict knowledge bases to just your internal users so you can keep your knowledge centrally stored and easily

referenceable

, without making it public.
Knowledge bases: Create public knowledge bases presented as dedicated help sites to your customers. SwiftDesk makes it easy create and organize great looking knowledge base articles, so your customers can find the information they need instantly.